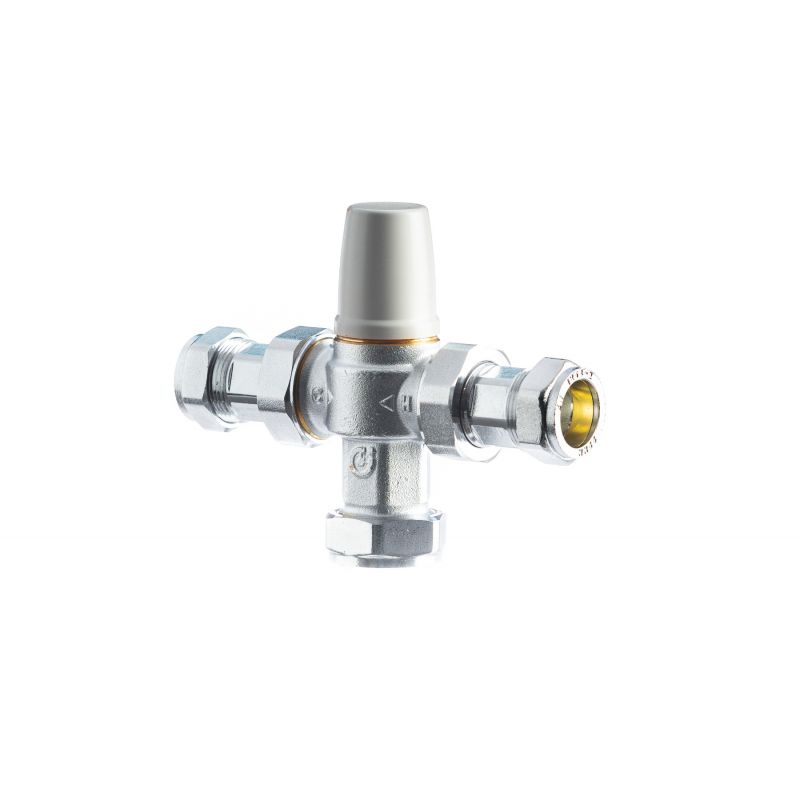 Product images are available for
download under Technical Downloads
Application Thermostatic mixing valves are used to maintain the domestic hot water supplied to the user at a constant and safe temperature, when variations in the hot and cold water supply conditions and draw off flow rates occur. The failsafe design shuts off the mixed water flow automatically in the event of disruption in the hot or cold water supply to the valve. Using the special tool and the manual override function of the Mixcal Careflo Plus allows thermal disinfection to be performed through to the outlets, so a complete flush an be performed not just a a partial flush. Thermal disinfection helps protect the system against Legionella and other microbial organisms. Thermal Shut Off In the event of a failure of the hot or cold supply, the piston will shut off, stopping water discharging from the mixed water outlet. The Altecnic valve requires a minimum temperature differential from hot inlet to mixed water outlet of 10˚C to ensure the correct operation of the thermal shut off feature. TMV3 The 101-300 Mixcal Careflo Plus fail safe thermostatic mixing valves have been designed and manufactured to meet the requirements of BS 7942:2000 and the National Health Service model engineering specification D 08 for use in healthcare premises, hospitals, care homes, and schools. The elderly, young children and the disabled are at particular risk of life threatening scalds due to a potential lack of mobility, skin sensitivity or the ability to communicate with their carer. The valve has been independently tested and approved as a type 3 valve under the TMV3 scheme. The 101-300 TMV3 thermostatic mixing valves are also suitable for use in domestic housing and commercial building for single user outlets including wash basins, showers, baths and bidets but are also suitablefor multiple outlet use.
Grouped product items

| Reference | Name | Size | Connections | Max Working Pressure | Accreditations |
| --- | --- | --- | --- | --- | --- |
| 101-3001 | Universal Tailpiece with Adapter | 15mm/22mm | Compression | 10 bar | |
| 101-3002 | Universal MX End with Adapter | 15mm/22mm | Compression | 10 bar | |
| F0001642 | Internal Service Kit | | | | |
| CBN521815 | Insulation for Mixcal Careflo Plus® | | | | |
Technical Downloads
Product Images
Click to download
MIXCAL CAREFLO PLUS® FAQs
There are no product specific FAQs currently available.
Please, view our general FAQs page to find the answer to your question.
Can't find what you're looking for?
If you still require further assistance finding the product or service you need, why not get in touch with our dedicated team of experts? Alternatively, you can find your nearest stockist of Altecnic products.
Find a Stockist

Altecnic products are available across the UK, Northern Ireland and Republic of Ireland through all good trade counters. Find a stockist today.

Contact Our Team

Our team of experts are always on hand to answer any questions you may have about our products. Contact us today with your query.