Gary Perry - Managing Director
Gary Perry, joined Altecnic in 1996 as technical manager. Since then, the sector has seen a huge amount of changes in products, legislation and technical requirements and Altecnic's product range has evolved substantially. Even though Gary's roles over the years have become more customer-facing, every day he draws on his vast experience of product development and technical acumen, always taking into consideration the industry and its requirements. The whole purpose of Altecnic's product development, he says, is to ensure the company provides first-class solutions to the market which are not only innovative but also simple to install.
Amongst Gary's career highs is his involvement in the thermostatic mixing valves market, where he played a key role working with the whole of the industry in developing standards to improve products and safety. He is particularly proud to have been part of the team that developed TMV2, TMV3 and the DTC standard for thermostatic products and being part of the launch of new products like Altecnic's patented RoboShock.
Altecnic has one of the largest technical support teams in the sector which, under Gary's management, has been working to set the benchmark for pre- and post-sales support offered to customers alongside excellent quality products and first-in-class service levels.
"Within Altecnic, we have become accustomed to introducing and developing products that suit market opportunities or customer needs," Gary says, "and this approach has generated substantial growth in our sales and product offering in recent years. My goal is to continue to provide sustainable growth for the business and to deliver true value to our customers by meeting their requirements for innovation, quality and service. I am immensely proud to continue to help Altecnic move forward and I look forward to a bright future for the business for years to come."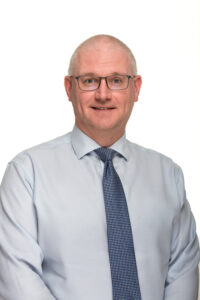 Simon Grocott - Operations Director
Simon joined Altecnic in 2003, initially focusing on IT services, and has since progressed to Operations Director after impressing in a variety of operational roles. Throughout his time at Altecnic Simon has consistently helped the business develop and grow through improved business efficiency and effective use of technology in order to meet the needs of customers. Simon has been at the forefront of many implementations that have resulted in benefits for Altecnic customers but also Altecnic employees, who have a workspace that they thrive and grow.
Simon was amongst the team involved in facilitating a large-scale relocation in 2009, which saw Altecnic close the business on Friday and re-open in only 2 days on the following Monday, which was a fantastic achievement for the company. Since then Simon has continued to develop business efficiency by increasing warehouse capacity by 25% and facilitating a full office refurbishment to provide Altecnic employees with a workspace to be proud of.