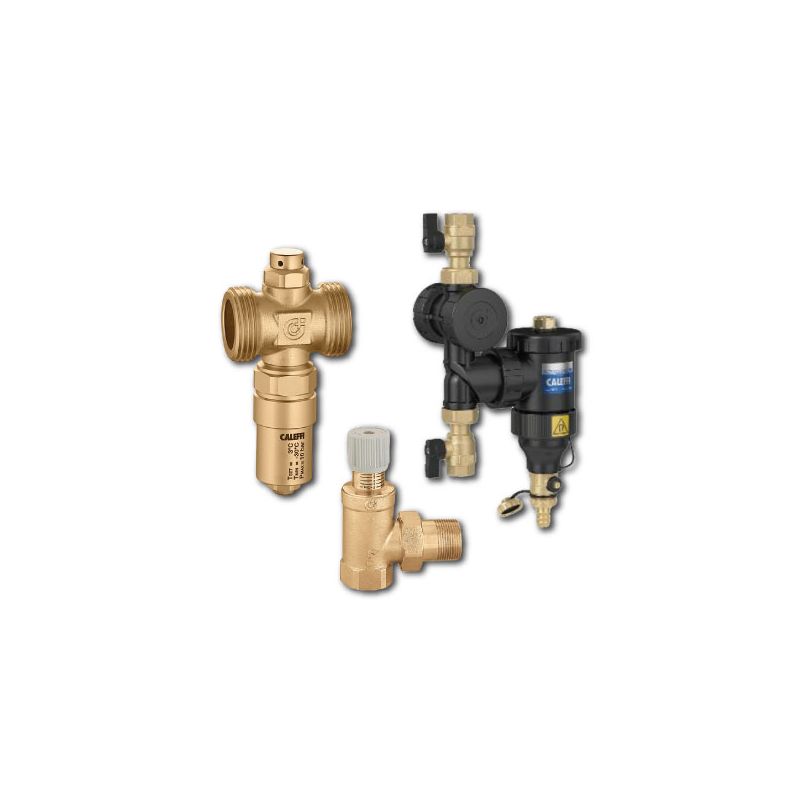 Product images are available for
download under Technical Downloads
The pack consists of: Anti-freeze valve The antifreeze valve allows the circuit medium to be drained when its temperature reaches an average value of 3 °C. This prevents ice forming in the circuit of a system, generally with a heat pump, avoiding potential damage to the machine and to the pipes. Differential By-pass Valve The differential by-pass valve is used in systems working with variable flow rates, for example in those making widespread use of thermostatic valves or 2-way motorised valves. It ensures a flow recirculation proportional to the number of valves being closed, while limiting the maximum differential pressure value generated by the pump. Dirtmag Quattro Multifunction device with dirt separator and strainer, including compression ends. The presence of these two components allows for continuous protection of the generator and devices from any impurities that form in the hydraulic circuit both at the time of system start-up and in normal operating conditions.
Grouped product items

| Reference | Name |
| --- | --- |
| 133-1064 | Heat Pump Pack |
HEAT PUMP PACK FAQs
There are no product specific FAQs currently available.
Please, view our general FAQs page to find the answer to your question.
Can't find what you're looking for?
If you still require further assistance finding the product or service you need, why not get in touch with our dedicated team of experts? Alternatively, you can find your nearest stockist of Altecnic products.
Find a Stockist

Altecnic products are available across the UK, Northern Ireland and Republic of Ireland through all good trade counters. Find a stockist today.

Contact Our Team

Our team of experts are always on hand to answer any questions you may have about our products. Contact us today with your query.