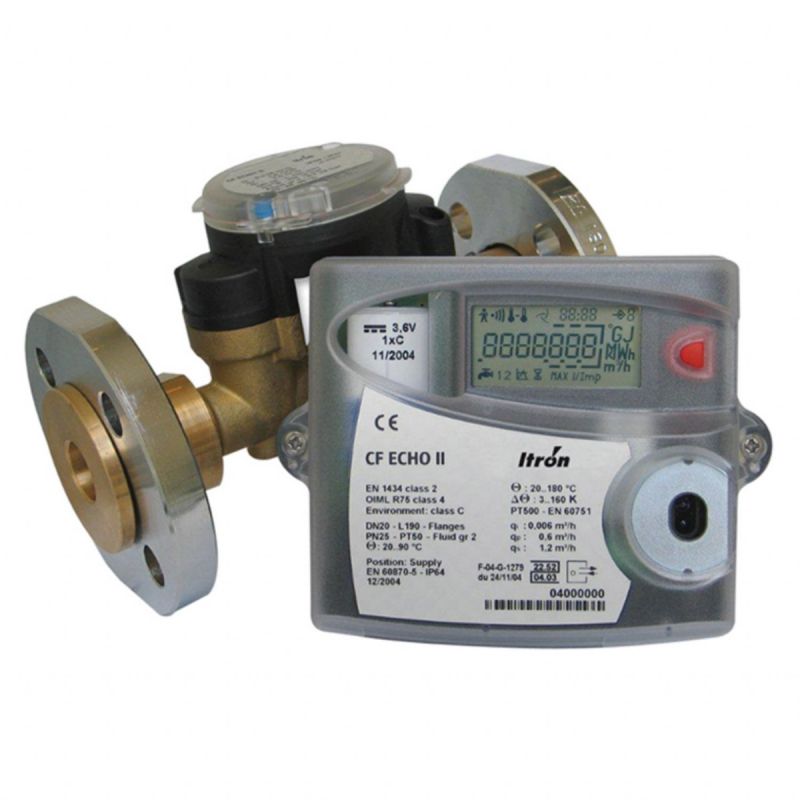 Product images are available for
download under Technical Downloads
ITRON C F ECHO II ENERGY METER WITH FLANGED CONNECTIONS
The CF ECHO II is one of the new generation of ultrasonic heat meters. Electronic data processing gives high precision throughout the entire measurement curve, producing a dynamic range exceeding class C. Flows can be measured from Qp 0.6 to Qp 15 m3/h (DN15 to DN50) with reliable and stable accuracy. Available in sizes ½" to 2" or DN15 to DN50 with female threaded or PN16 and PN25 flanged end connections make the meter suitable for most installations. All hydraulic bodies carry a flanked design helping meter installation. The CF ECHO II can be used in heating and combined systems. The meter can be installed in both the supply or return pipes and in horizontal or vertical pipework.
Grouped product items

| Reference | Name | Size | Connections | Accuracy Class |
| --- | --- | --- | --- | --- |
| 204-13•• | Itron C F Echo II Energy Meter With Flanged Connections | 32mm | Flanged PN16 | MID II |
| 204-14•• | Itron C F Echo II Energy Meter With Flanged Connections | 40mm | Flanged PN16 | MID II |
ITRON C F ECHO II ENERGY METER WITH FLANGED CONNECTIONS FAQs
There are no product specific FAQs currently available.
Please, view our general FAQs page to find the answer to your question.
Can't find what you're looking for?
If you still require further assistance finding the product or service you need, why not get in touch with our dedicated team of experts? Alternatively, you can find your nearest stockist of Altecnic products.
Find a Stockist

Altecnic products are available across the UK, Northern Ireland and Republic of Ireland through all good trade counters. Find a stockist today.

Contact Our Team

Our team of experts are always on hand to answer any questions you may have about our products. Contact us today with your query.