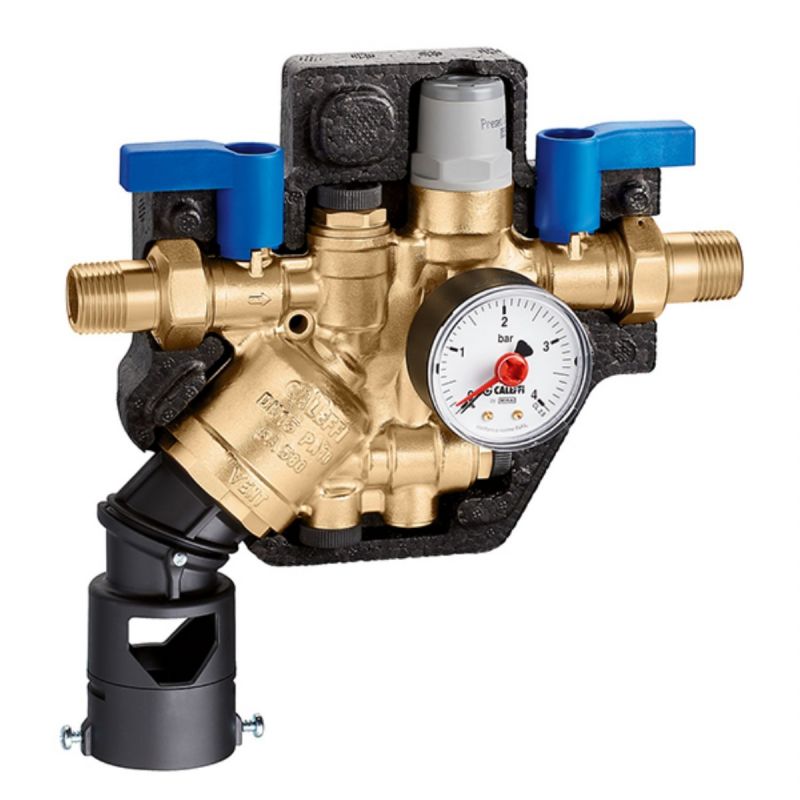 Product images are available for
download under Technical Downloads
AUTOMATIC COMPACT CHARGING UNIT
Automatic compact charging unit with BA-type backflow prevention valve. The compact automatic charging unit is composed of a shut-off valve with an inspectable strainer, a BA-type controllable reduced pressure zone backflow preventer and an automatic filling unit. It is installed on the water inlet piping in closed circuit heating systems. It maintains the pressure of the system stable at a set value, automatically topping up with water as required. The backflow preventer prevents the contaminated water of the closed heating circuit from flowing back into the domestic water supply, in accordance with the provisions of EN 1717. The device is supplied complete with preformed shell insulation and features a compact design to facilitate installation.
Grouped product items

| Reference | Name | Size | Connections |
| --- | --- | --- | --- |
| 580011 | Automatic Compact Charging Unit | DN15 | Threaded M BSP |
Technical Downloads
Product Images
Click to download
AUTOMATIC COMPACT CHARGING UNIT FAQs
There are no product specific FAQs currently available.
Please, view our general FAQs page to find the answer to your question.
Can't find what you're looking for?
If you still require further assistance finding the product or service you need, why not get in touch with our dedicated team of experts? Alternatively, you can find your nearest stockist of Altecnic products.
Find a Stockist

Altecnic products are available across the UK, Northern Ireland and Republic of Ireland through all good trade counters. Find a stockist today.

Contact Our Team

Our team of experts are always on hand to answer any questions you may have about our products. Contact us today with your query.